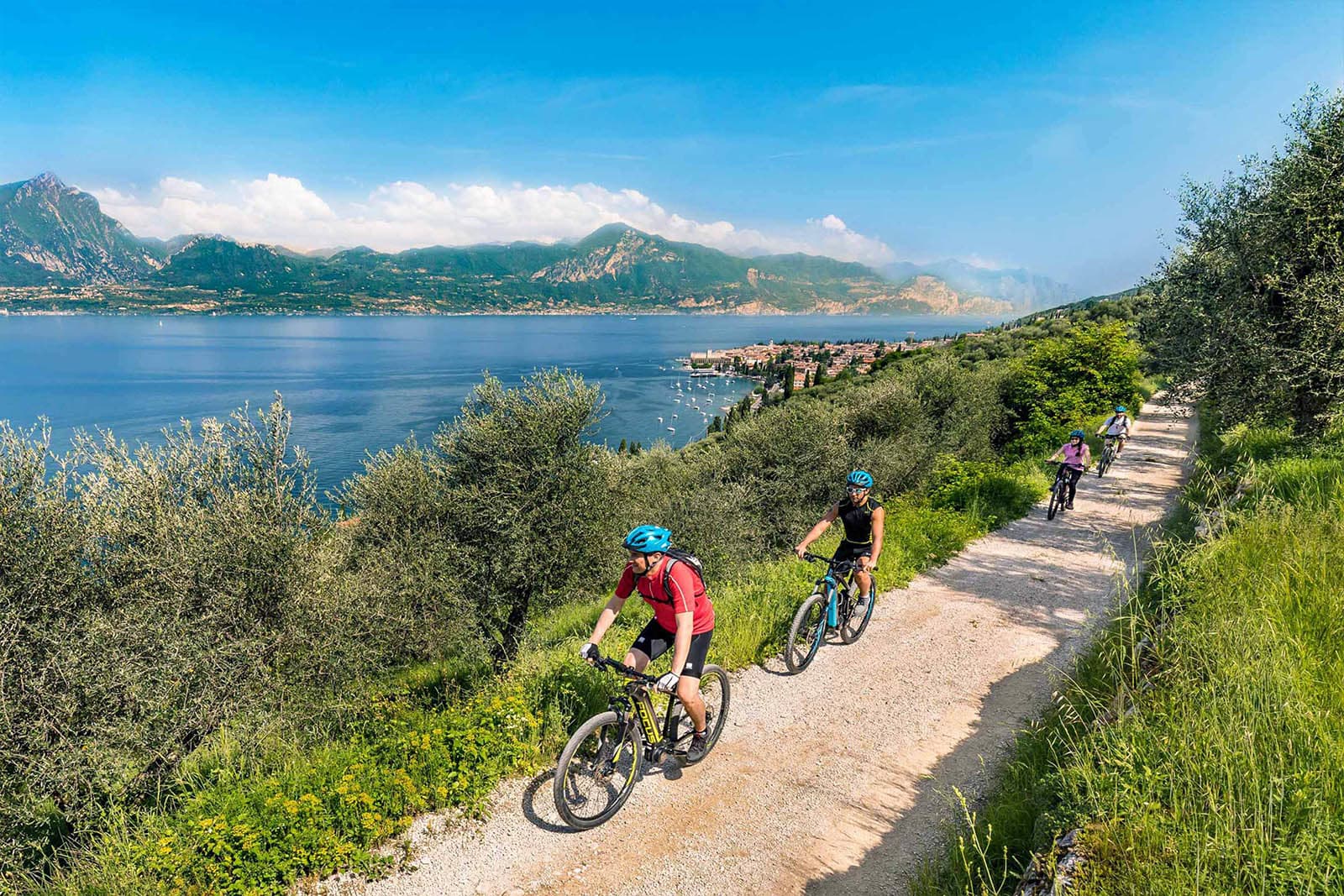 The ascent along the Via Castei is the perfect start for a great mountain bike tour. If the lake's water level is low, you can cycle along the lake before going up. Alternatively, take the main road for 10 minutes and turn right into Via Castei. This leads past the Punta San Vigilio over a mountain bike trail that already impresses with the first wonderful views of the lake.
If you follow the trail to the end, you only have to push the bike a few metres over a pebbly passage (experienced mountain bikers also ride down with ease) and you are already on a wonderfully quiet gravel road, parallel to the shore a good 100 metres above the lake. Via steep serpentines, one gets to the little village Albisano, from where one enjoys a fantastic view over the lake up to the opposite shore.
From Albisano you can now decide, depending on your physical condition and temperament, whether you want to continue up to San Zeno, over partly tricky trails over Monte Lenzino, or ride comfortably on a quiet road over to Castion Veronese.
Tip! To prevent the rocky trail section, you can also choose to ride up the main road all the way to Albisano. Or if you prefer a nice challenging flat asphalt without traffic you take the next road after the main road to Albisano. Careful, very steep!
From Albisano: There are then multiple choices listed by increasing difficulty:
1. The most convinient path: take the road up, it's nice and wide so normally also no problem with the traffic (Allbisano San Zeno Straße)
2. A nice challenge: a little more up towards San Zeno and then ride down the trail towards castion and through the Valle dei Mullini (Albisano - San Zeno Rocky Trail)
3. Experienced Riders: The very techincal climb up to San Zeno and in the end down one of the noumerous downhill trails from San Zeno. Before chosing that Tour please talk to our staff for consultation about the best route and bike.
Click here to reserve your bike
⬇⬇⬇You can use your phone as a navigation device⬇⬇⬇
(and pick Verona as your first Region)
Once you have the Komoot app, we can transfer this one and/or other individually planned tours
according to your needs when you are here in our shop.
This way we can make sure you're riding a tour that suits your skills,
is maximum fun and you won't get lost along the way.
You can rent power banks (phone chargers) and phone holders in the shop!